World's Famous Kiss Was Staged - Is It Still Authentic?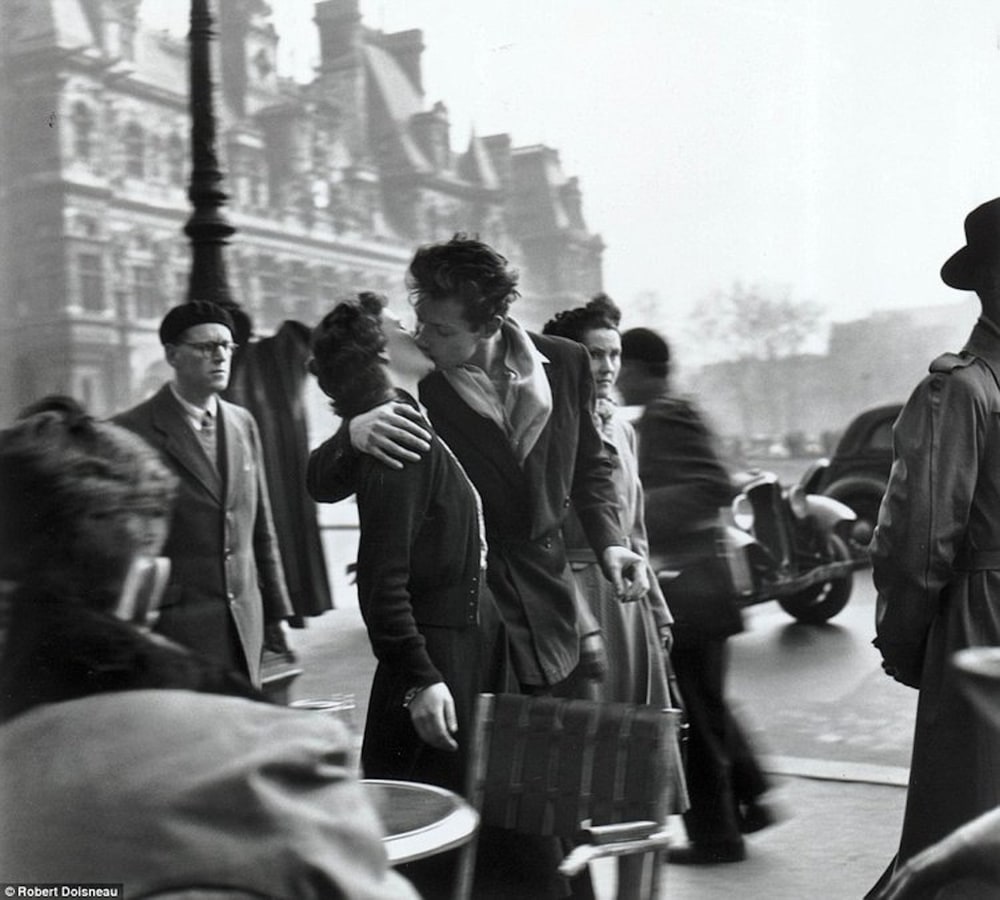 Photo by Robert Doisneau
World's Most Famous Kiss Was Staged - Is It Still Authentic?
Years ago, my husband and I had a large, framed poster of a photograph called "The Kiss" hanging in the living room of our first home together. No particular reason; we just thought it was a cool picture. It looked great in our space, and we loved it. Every time I entered the room, I was compelled to stare and analyze it for what seemed like great amounts of time. I didn't know who Robert Doisneau was at the time, and frankly, I didn't care. At the time, I didn't know; I was staring at what would be the only other influence I would have in the field of photography, other than my husband. Who happened to be an avid film photographer years before I met him. I only cared about how this photo looked and made me feel. It was dark and contrasty but exuded a sort of romance that was inexplicably European. I used to think about what type of relationship these two people on-camera might have had. How long were they together? How old are they? Are they around my age? I didn't know that I would also be someone behind a camera years later, doing my best to create my own thought-provoking portraits, similar to the one hanging in my living room for all of those years.
Now, years later, I have recently come to learn that Robert Doisneau staged that entire scene. Here is a BBC article on the staging of "The Kiss" and its backstory. So, how important is the authenticity of a photograph? Do we always expect editorial photos to be spontaneous? How has my opinion changed? Back then, would I have cared about the photograph being staged? If I had known this years ago, would it have ruined the loveliness or mood for me? Would I have been less compelled to stare at it for what seemed to be hours at a time? Now that I am a photographer, I had to think about this question seriously.
"But, we, sharing Doisneau's gaze, stop in our tracks in front of this picture: the immediacy of it, the young bodies' movement and the place and time, Paris, 1950, cast a spell on the viewer. Who cares about authenticity? The sentiments showed in the picture are authentic. "
— Agnès Poirier of BBC Culture
As a person who both creates art and enjoys others' art, I feel it's not for me to judge. People buy, create, enjoy, and even curse artwork for many different reasons. In the back of my head, I think I always knew this photo was considered "art." So, I understood that this photo's chances of being completely unaltered or un-staged in any form are almost zero percent. Much like its "zero" percent chance to expect a tube of paint to squeeze itself out of its tube and, with no help from the artist, smear itself on to the top of a canvas. Thus, the instrument creating art, independent of its artist. So, even though I didn't officially know that it was staged, I guess I'm not surprised it was staged since everything that's art must first be created. But that's an existential blog post for another day.
So the final result of this image (or others like it) should not depend upon whether the photographer caught the couple spontaneously (or not) or even if he (or she) hired models to create a scene, as long as the result is authentic. I believe it is authentic in every aspect of emotion that it draws forth from its visual participants. To me, it is, in some way, visual confirmation of how art, in its many forms, can transcend barriers of language, space, and even time, to tell stories of love, romance, and youth, from a bygone era in Paris. Doisneau and his photograph did what I find myself trying my best to do for others; to capture a moment that means something to the observer. Something you can cherish and remember, and stare at together with the ones you love.
That's what I call authentic.
---
Karlana Pedersen, artist, photographer, and founder of Karlana Pedersen Visual Art & Photography, specializes in custom contemporary art with a slight retro flair. Karlana creates her own style of hand-painted, multi-media abstract, portraits, and impressionistic artwork, incorporating bright colors and textural patterns to create her unique brand of stylized artwork available as originals and open edition prints. Karlana Pedersen's custom artwork has been a design favorite with interior designers and is featured in both homes and businesses alike.
For more information, visit Karlana Pedersen's artist gallery: