5 Quirky Things to Do on Valentine's Day (with or without a lover)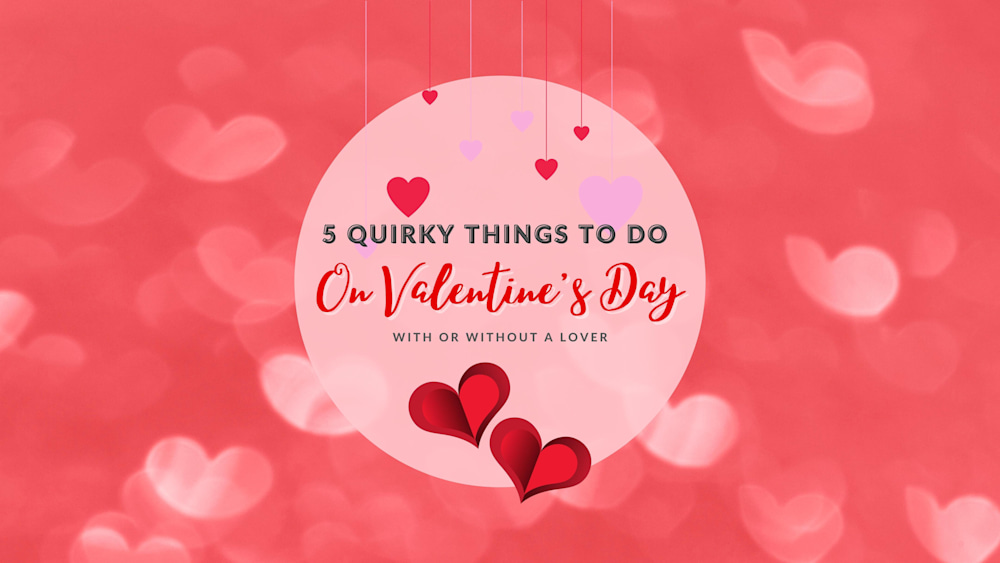 Image by Karlana Pedersen
5 Quirky Things To Do On Valentine's Day (with or without a lover)
This might sound a little crazy, but...Valentine's Day may not be for everyone. Whaaat?
I am certainly on the pro Valentine's Day side of things. I have been happily married for almost thirty years, and we have three beautiful kids, and I truly love this sappy and romantic pink and red, themed holiday. But, I also know that not everyone celebrates holidays the same way or even shares the same sentiment. Valentine's Day is a holiday that is celebrated everywhere, but it may not be for everyone. Some people view it as a day of love and happiness, while others see it as a forced and commercialized holiday created by Hallmark. Sorry, Hallmark. No disrespect. That's just the word on the street.
Valentine's Day often produces two distinct types of people. Either the person whose significant other sends a dozen roses with a box of chocolates to the office, or the person who wants to rip off cupid's wings and drive a stake through its heart. No matter what your opinion on Valentine's Day is, the fact remains it's a big money-maker for businesses. Flowers, chocolates, cards, entertainment, restaurants, alcohol, child-care, and yes, arts and crafts. These are just some industries that see a surge in sales around this time of year. But if you are not interested in celebrating Valentine's Day this year, where does that leave you on this holiday for lovers?
Believe it or not, there are plenty of other things to do!
If you want to celebrate Valentine's Day, but just not in the traditional way, here are a few ideas for how to spend your Valentine's Day with or without a significant other.
Have a paint party!
Grab a few like-minded friends, wear fun matching paint aprons and start painting. It doesn't matter what you paint. But for starters, try a small wine and cheese style paint party at home with watercolors on small canvases. Download free online student art templates, and keep a few different designs on hand for your guests. You're sure to have a great time, and who knows, you might even discover the next Bob Ross.
Volunteer.
There are plenty of organizations that need volunteers daily, and Valentine's Day is no different. Show some love by giving back to the community and spending Valentine's Day helping others out.
Go to a play-support local theater.
Support local theater and take in a performance. Advanced reservations are almost always required, so the sooner you decide to go, the better. Sometimes you can get last-minute ticket cancellations by contacting a ticket broker or the theater's box office directly. Covid option: The matinee showing is typically less crowded depending on the play and its availability.
Go to an art exhibit or museum.
Most museums or exhibits offer free or discounted admission on certain days, so check if they have a special Valentine's Day event or discount. You can find out about special events or local deals by calling the museum directly or visiting your city or local area's online webpage for special events and offers. One of the most popular art exhibits touring the US is The Van Gogh Immersive Art Experience

Check this link for show information in your city.
Treat your fur-babies.
Ok, so this may be more of a Valentine's Day gift for yourself than anything else, but if you want to treat your pet on Valentine's Day, you can probably find something online that they would love! If they are not a fan of toys, then find grooming places that offer Valentine's Day deals and specials instead.
Whether you are pro Valentine's Day or not so much, as you can see, there are plenty of other things to do this year. There is something for everyone.
So whatever you decide to do this year, have a Happy Valentine's Day!
Are you PRO or CON Val Day? Follow me on Instagram and join the conversation. What are YOU doing for Valentine's Day this year?
Karlana Pedersen is a contemporary artist, photographer, podcaster, and entrepreneur.
Owner of Karlana Pedersen Visual Art & Photography and Founder of Art Maiden™